About Us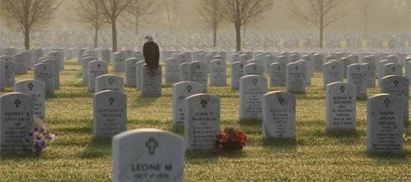 Family Tradition. 
For four generations, members  of the Webb family have combined for 275 years of service to over 12,000 families since 1912.  As a locally-owned, family-operated funeral home, we are here to serve you through our funeral home, not the other way around.  Our service to you is not dictated by others.  
You are the shareholders and the ones we strive to satisfy. 
************************************************************************************************************************************
Experience.
Remember, Montgomery County native Zach Webb is the longest dual-licensed, most experienced funeral director/embalmer associated with any funeral home in Independence.  (3 states/33 years/5,000 services/2,500 preparation of deceased).  Don't underestimate the value of experience and ability of your funeral director to provide the proper viewing of your loved ones. 
    We are expert in creating meaningful services, whether cremation or burial;  a formal traditional service or informal gathering.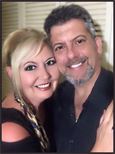 Webb Family Funeral Service

is owned by Zach Webb, a local third-generation funeral director, and the son of Gwen Webb and the late Gerald Webb, and his wife, Deanna, a licensed agent with United Heritage Life, who will handle pre-paid arrangements.
*1986

- Zach earned his degree in Mortuary Science, after working with Amos Family Funeral Home in Shawnee, KS, and worked at Webb & Rodrick Funeral Home from 1986 until shortly after its first corporate acquisition in 1997. He then worked in Oklahoma and Missouri until returning to the area with David W. Barnes in Coffeyville in 2009.   Deanna is a Coffeyville native, the daughter and granddaughter of the late Connie and Jackie Hughes. 
   They are the parents of  Zachary D." Zach" Webb and Jacqueline R. "Jackie" Webb, and the late Stephanie Stewart and the late Maxwell Webb.
   After much effort, we are proud to return the Webb Family to service of the Independence area in 2012.
*1890's- Glen Webb and Mary Williamson are both born in Kansas, and raised in Topeka.  They are the children of Presbyterian and Methodist ministers.

*1913- Glen M. Webb is licensed in Kansas after completing his education at the Hohenschuh School of Undertaking in St. Louis.  They get married and start their family as Glen works for Penwell-Gabel Funeral Home in Topeka.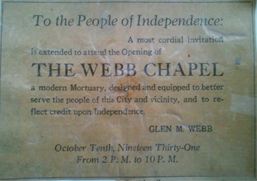 *1921- Glen & Mary move to Independence, Kansas, where he begins work with the Jackson Undertaking Company.
*1931- Now with 4 sons, Glen & Mary found Webb Funeral Home at 215 W. Main.
*WWII- Dick Webb, as a bomber pilot, and Bill Webb, a ball-turret gunner, both fly 50+ missions in Europe. Clarence serves in the U.S. Navy in the Pacific.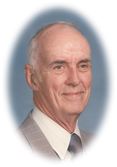 *1946- Clarence Webb joins the business and Webb Funeral Home is built at 306 W. Main.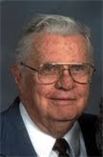 *1954- Gerald joins the business, Glen passes away, and plans are started to purchase Denbo Funeral Home in Elk City.   
*1967- Mary Webb was named the Kansas Mother of the Year, one of two women from Independence to receive the honor.  Mary passed away in 1984. 
  Clarence and Gerald had numerous professional and community achievements, including being the first brothers to be presidents of the Kansas Funeral Director's Association, Methodist Church, Mercy Hospital Board, School Board, Memorial Hall Board and virtually all civic groups. Jerry, with his wife Gwen, was a co-founder of the modern Neewollah celebration in Independence, helped create the Verdigris Valley Association for Retarded Children, was appointed to the Kansas Alcoholic Beverage Control Board by Governor Docking, and was a two-time president of the Kansas State Board of Mortuary Arts.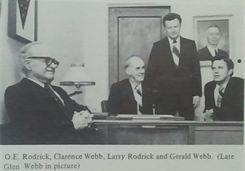 *1976- Webb Funeral Home merged with Rodrick Funeral Home to form the Webb & Rodrick Funeral Home.  Gwen Webb assisted as the bookkeeper and assistant director.
*In 1997, Webb & Rodrick sold to a corporate conglomerate and since been sold twice. 
Zachary Webb

is a Graduate of ICC with an A.A. in psychology. He recently graduated from The University of Kansas with his bachelors in English and Creative Writing.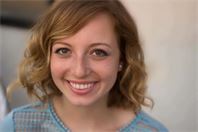 Jackie Webb
Jackie Webb
is a Graduate of  ICC with her Associates in Music.  She attended The University of South Dakota receiving her degree Theater and Music and an actress currently living near Hollywood, CA, .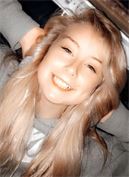 We welcomed our granddaughter Braye in 2019.  She is a freshman at Independence High School active in sports and dance.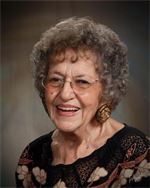 Gwen Webb
1931-2014

  Gwen's obituary can be seen on the 2014 obituary page.  She was a vital part of the success of Webb Funeral Home. She is greatly missed by all.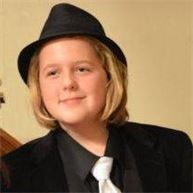 Maxwell Webb
Maxwell passed from this life at 16 years old, on September 30, 2013, and any service for others is dedicated to him. 
 --Zach and Dee Webb
1989 -2014  Stephanie passed away at 
24 years old, on April 27, 2014.  Our children's obituaries are listed in the corresponding year.